Residential Lawn Care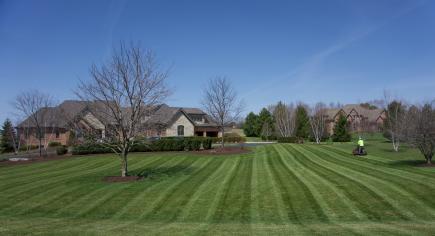 Myers Landscaping offers two outstanding residential maintenance programs which insure that our clients' landscape investment is properly maintained.
Residential Lawn Care Services
Here at Myers Landscaping, we believe that your lawn is one of the most important aspects to your property. Whether its your front yard or your backyard; having a well kept lawn increase its value which increases your value. Give us a call when you're searching for a professional company who specializes in lawn care in Rockford, IL and see how we can help you today!
Lawn Care
When it comes to your yard, you deserve something that's a vivaciously green and free of weeds. Let our trained experts provide you with professional lawn care in Rockford, IL and ensure a healthy yard that you will be proud of. Unlike maintenance on your vehicle, your lawn is much more affordable with Myers Landscaping. What people may not know is that it's actually better to have regular maintenance scheduled when it comes to your lawn care to ensure its health. Trust that our years of experience will help to keep your yard looking beautiful all year round with our lawn care services in Rockford, IL.
Monthly Maintenance Program (Full Season Service Plan)
The monthly program is designed for those who expect proper horticultural care of their exterior landscape.
A specially trained crew will be on site each week to perform the following services:
Hand pruning of ornamental plant material (some shearing may be performed)
Ground cover control
Weed control
Hand weeding
Tree maintenance, raising canopy and maintaining proper form
Fertilization of plant material
Edging
Leaf removal
Cleanup of landscaped areas each visit
Irrigation system start up, shut down, and monitoring
Fertilization and weed control of turf area
Mowing of all turf area
Seasonal Maintenance Program
The seasonal program offers a solution for our clients who do not have a need for a weekly maintenance program.
A specially trained crew will perform all the seasonal service functions which are as follows:
Deep hand pruning
Turf Treatments
Spring Cleaning
Fall Cleaning
Edging
Mulching
Mid Summer pruning
General landscape clean up