Firewood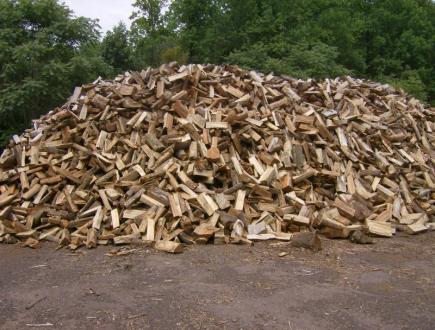 Rockford Firewood Company
Need Wood?? We've got it!!
Myers Tree Farm tries our best to keep seasoned firewood available year round. Weather you want to enjoy a fire in your home or a gathering around a fire pit for outside fun, give us a call!! All wood orders are available for stack and delivery.
All wood orders are available for stack and delivery.
Oak, Hickory, Cherry & Ash wood available
All wood stored inside 6-12 months before being sold
All wood split to 12"-16" in length
Please Call Myers Landscaping For Our Rockford Firewood Pricing
---
Oak Firewood in Rockford, IL
When it comes to Oak, we find that it's a very popular a "go-to" choice being that it's one of the nicest to burn. Not only is it safer around kids and animals, it typically has a low emission while lighting quickly and can burn through the night being that Oak is very dense. Oak wood actually takes the most time to season and it's ideal to use it with a mixture of different logs in your fireplace. There's usually no possibility of insects or mold with Oak once it has been kiln dried and has an pleasantly sweet aroma once burned. When you're searching for firewood in Rockford, IL that will put out a lot of heat while emitting a small flame, look to Oak Firewood.
Hickory Firewood in Rockford, IL
While Oak and Hickory firewood have very similar qualities; Hickory is a heavy hardwood that we find customers saying is the best for burning. Hickory doesn't hold a ton of moisture which makes it easier to ignite once it's been kiln dried. With giving off the lowest emission that ensures safety indoors (and outdoors), Hickory firewood guarantees no possibility of either insets or mold. It's known to burn longer than other types of split wood while providing a bright, hot flame. Have you ever heard the crackle of a fire? If so, they were using Hickory! We found that our Hickory firewood in Rockford, IL has been proven to ensure the best overall experience.
Cherry Firewood in Rockford, IL
Give Cherry firewood a try if you're looking for a more unique wood to burn. Even though it doesn't burn as well as Oak or Hickory, it's been known to be the best kind of wood to use for fires. The smell alone of the burning Cherry wood is a reason enough to take a chance on this type of firewood. Even though Cherry firewood doesn't burn as long as other types of wood, it's a difficult type of wood to find. Not with Myers Landscaping though! We take the time to go through the piles of Cherry wood and find ones that are free of mold and rot to be able to provide to our customers. Give our Cherry Firewood in Rockford, IL a chance if you're wanting something new!