Commercial Lawn Care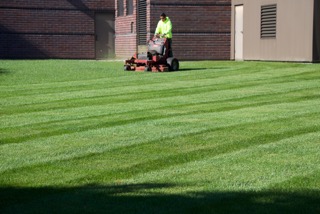 Commercial Lawn Care Companies in Rockford
We know that the responsibilities of today's property managers are great. With security, budgeting and demanding tenants, time management becomes a major focus. We cannot reduce those problems but can lessen the amount of time you will need to spend managing your landscape with our maintenance services.
Rockford Commercial Lawn Care Company
Myer's Landscaping will maintain all aspects of your exterior maintenance and provide you with a reporting system that will keep you up to date on the condition of your property. We will monitor the health of your landscape, as well as, offer you ideas on how to enhance your overall landscape for the long term.
Myer's Landscaping specializes in maintaining office parks, homeowner & condo associations, corporate campuses, retail spaces, industrial parks, and hospitality.
Hand pruning of ornamental plant material (some shearing may be performed)
Ground cover control
Weed control
Hand weeding
Tree maintenance, raising canopy and maintaining proper form
Fertilization of plant material
Edging
Leaf removal
Cleanup of landscaped areas each visit
Irrigation system start up, shut down, and monitoring
Fertilization and weed control of turf area
Mowing of all turf area
---
Please feel free to browse our website to check out all of the services Myers Landscaping offers and read about our approach as a landscape company. Be sure to let us know how we can help service your association.